Participate
Communities can't exist without you. When you meet, engage, and participate with your local Congressional Community, you're doing important work to help "We, the People" be heard by Congress - work that is only possible when participants come together.
There are two ways to participate in your Congressional Community - online, and in person. Online, you can participate in statistical polls to give your community a sense of what issues you find important, as well as discuss Congressional actions, policies, or laws with your community members on message boards. In person, you can attend events planned by your Congressional Community, where you can directly discuss with your community members issues affecting your community, city, and state - as well as how best to communicate these issues to your representatives.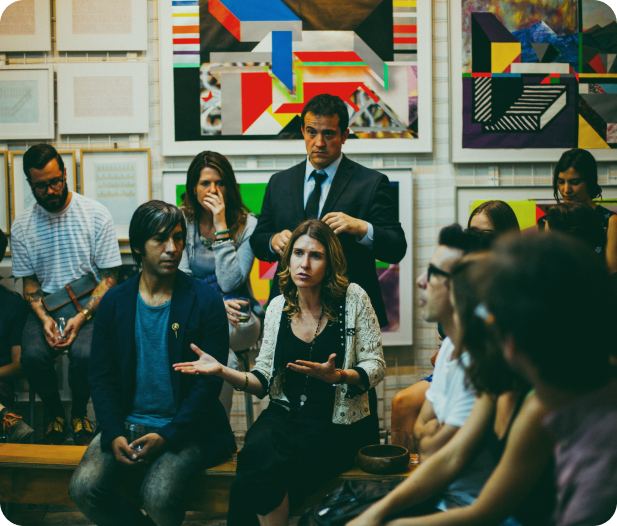 Frequently Asked Questions
How does participating help my community?

Every community is diverse - full of people with different backgrounds, mindsets and skills. For your community (and your representative) to know what its members think, it's best if they hear from a large number of people. Participating in your community will help ensure that everyone in that community has a seat at the table, and that the wishes of the community as a whole are accurately gauged and shared with the Congress member and their staff.

How does participating work logistically?

Participating in your community will generally be a combination of attending meetings, filling out polls and surveys, and participating online. Communities will hold meetings throughout the year to learn about and discuss issues of importance to the community, and participants can attend. These meetings could include presentations made by the community members, seminars by experts on the issues, or even dialogue with your representative - your part in it could be as simple as showing up to listen. Information on how to participate online can be found on the pages dedicated for polling and the message boards.

What is expected of participants?

As a participant of your community, you'll be expected to be civil, respectful, and willing to listen to opposing viewpoints when using message boards, when attending your community meetings and when meeting with your member of Congress and their staff. While we welcome the exchange of differing ideas, we want participants in communities to keep their focus on issues and policies that Congress deals with - not on parties, Presidents or subjects more appropriate for your local city council or town board.

How do I begin participating?

Participating in your community starts with finding out where your community is and joining. You can do that here. If your CC has adequate membership, you will have access to your message board and to the events page. From either one, you can get in touch with other community members, and, if you want, find out what you can do to help with the next meeting. You can also take any current polls that will be available periodically to members of your community.

Does it cost anything to join?

No. Membership is free. The single requirement to joining a Congressional Community is that you reside in the district, and belong to only one Congressional Community.

If most of the members of the CC belong to a different party, can I start a separate CC in the same area?

No. A core tenet of the CC model is that all voices are welcome. In fact, at meetings, we ask that CC participants refrain from identifying by party. If your CC membership is acting exclusively, the best solution is to speak to them and remind them of the culture we are striving to establish. Opposing voices are welcome, because through healthy disagreement we arrive at better solutions. We believe we will attract people who understand the need for inclusion, and will leave it to the CCs to figure out how to resolve any disagreements.